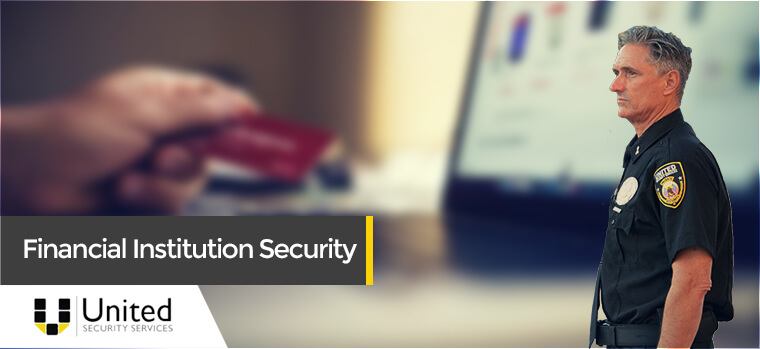 Secure Financial Institutes with Highly Trained Security Guards
If you own a bank or financial institution or are responsible for its operations, then it is your primary duty to provide a safe, friendly atmosphere to your clients so that they know their money and personal information, among other things, are in good hands. Needless to say, brilliant customer service plays a crucial role in the operations of a bank or financial institution. Moreover, it is your responsibility to protect the personal information, data, records, and assets of your clients as there are chances of internal theft, burglaries, false transactions, and vandalism. This is where financial institution security comes to your rescue by offering top-notch safety to your customers and protecting your employees so that you can maintain long-lasting relationships with your clients with confidence.
Investing in financial institution security is definitely going to give you peace of mind as you will gain the ability to deal with any kind of criminal activity within or outside the organization's premises. You will be able to do this by engaging highly-trained guards and security patrols, as well as sophisticated security systems and top-notch strategies.
If you are still not convinced of the need to hire security for your financial institution, read on as we shed some light on how particular security services can help you keep your employees and your customers safe and your operations running smoothly. You spend the time focusing on the marketing and the financials (with help from https://www.leadjig.com/financial-seminar-marketing/ or internal teams), so why not spend a little time learning about security measures?
1. Highly-Trained Security Guards
Entrances and exits are the most vulnerable areas of any financial institution. If you are unable to monitor who gets in and leaves the premises, there's no chance of you securing and protecting your employees and customers. However, with highly-trained, professional and experienced security guards, you can secure the entrances and exits, as well as the most sensitive areas of the premises. The top security companies offer specialized training to their security guards so that they can understand the unique threats a financial services company or a bank may face. This allows them to develop a strategy to combat them such disturbances without any difficulty. Based on your unique needs, you can opt for:
Armed Guard Security Service
Unarmed Guard Security Service
Patrol Security Service
Executive Protection – Bodyguards
And Much More.
2. Technology-Facilitated Services
At times, it is difficult to keep a watchful eye on all the areas of a financial institution manually and this is where remote access comes to the rescue! The highly-advanced technology used by security companies today contributes immensely to prevent the entrance of unauthorized personnel into the premises, as well as any suspicious activity in the most vulnerable areas. With advanced CCTV or video monitoring technology, the guards are able to keep an eye on what is happening indoors and outdoors and take action accordingly. For example, in the case of a bank, areas such as the ATM booth are monitored via security cameras 24/7 so that no untoward incident can take place. Any kind of robbery, vandalism, and burglary are discouraged as with security systems such as CCTV, motion sensors, access control systems, and much more, the security guards can detect instances of unlawful activity and take action against them without wasting any time at all.
Ending Note
To protect a financial institution, it is important to hire the best security guards who know how to handle and resolve all kinds of complicated issues. Pair their services with top-notch security systems to make sure that you have all your security needs met without any compromises.