Stay Safe During Protests with Personal Security
Many years ago I took an oath to "uphold and defend the Constitution of the United States".  I did not take that lightly and continue to make sure the people of the United States have the rights afforded them under the Constitution.  Whereas I see many people exercising their First Amendment Right to Freedom of Speech and peacefully assemble, it pains me to see that the safety of those exercising that right is in jeopardy at every turn.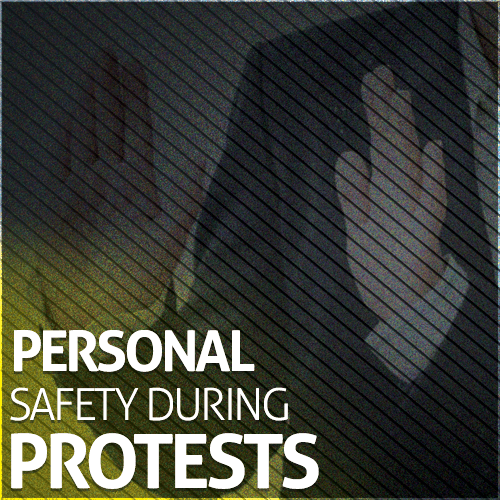 In today's heightened political, social, and economic world, the right to assemble comes with increased risks for safety of all those attending.  With that in mind, I wanted to put forth a couple of best practice safety concerns should you choose to be involved in situations similar to those in the recent news and situations that have occurred over the last year.
Understand that most of the people attend with the best intentions; they just want to be heard.  However, there are those that instill riots, mayhem and otherwise bad times while at these events.  These situations can and often do, change in an instant to that of pure chaos.
For your own safety and the safety of others, please take a moment to look at these safety practices that can prevent you from receiving harm during these eventful times:
Always understand your surroundings, take note of who is next to you, in front of you and people dressed where you cannot see their faces due to being covered. I am not talking about those who regularly wear head gear, I am speaking about those using bandanas and other forms of coverage so they are not recognized.  Be mindful of them and what they may be carrying that could harm you.  Inform local authorities if you feel the need and do your best to remove yourself from their presence.
Wear protective eye glasses or if the situation permits, sunglasses. Being sprayed with mace or pepper spray is not fun of course, but limiting the amount that comes in contact with the eyes will make the recovery time considerably shorter.
Should the protest extend into a street, highway, avenue, etc. take extra precautions to ensure you are not trapped in the middle of it. Protect yourself by moving to the sidewalks or completely removing yourself from the area.  A speeding car, as recently seen, is a deadly cocktail for many innocent people.
Should you feel at any time that the situation is getting out of hand, leave immediately to protect yourself and those with you. Remember, that sticks and stones as well as many other things taken to these events, can truly harm you.
May you all be safe and secure while exercising your Constitutional Rights.  I hope that every one of you continues to fight for what you are passionate about, but, I would still like to see your smiling faces the day after.  Please protect yourselves.
Read More Our Previous Article: Safety & Security Blog