Security Guard Jobs
You are in the right place for security guard jobs. Welcome to your security employment opportunity! Filling out this form you are aligning yourself with one of the top security companies in Los Angeles. Our management team leads by example. Our security consultants work hard to keep assignment opportunities bountiful. Our Security Training programs keep our guards prepped and ready for their assignments.
We have a screening process that has been developed through our experience that assures placement in the right assignment. It is important to note that United Security Service invests in our security guards as much and more that the commitment our security guards invest in their security jobs.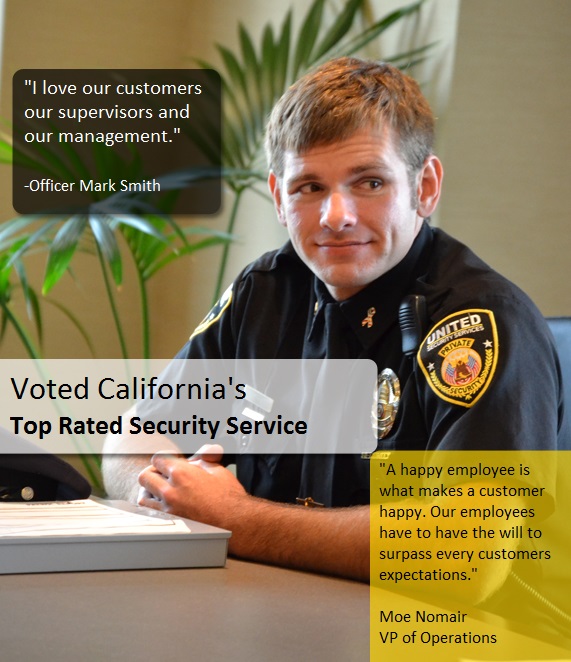 Please fill out this form in detail to provide us the information we need to get you started. We accept online applications only.
There are some key characteristics we look for in a guard to assure our clients get the best valued services. We have programs in place to motivate our guards by rewarding them for their service record. From an employee of the month program to opportunities for promotion, we incentivize our guards to benefit our clients by their performance. This environment of appreciating the work our guards do keeps them at their best at all times. This assures that each assignment gets high valued services.
Customer Service
Our security guards prioritize their relationship with the client starting with good communication. They know courtesy and professionalism are part of their duty in representing themselves well and representing the client well. They are an extension of our client's staff respecting their brand. Our guards are attentive and eager to help whenever they can. They are responsive and proactive, learning their assignment to anticipate issues and communicate suggestions or concerns the client may want to address. And our account managers and field supervisors look for feedback from the client to make sure that the level of customer service they are getting keeps with these principles.